Family Law Expert Serving
the Cities of:
San Bernardino
Riverside
Upland
Fontana
Ontario
Victorville
Corona
Rancho Cucamonga
Chino Hills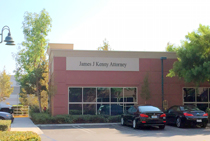 Our Rancho Cucamonga Family Law Office
Customer Reviews

tydean1385
He saved me $85,000 in a judegement from the court, the judge made a mistake and James caught it, he is very intelligent in divorce matters. He got my son for me from my ex-wife, a very difficult task. He saved my house for me and my sons. Well worth the money I paid him.

timdejardin0112
I recommend Law Offices of James J Kenny as an attorney very highly. He is a consummate professional yet still treats you like family. I will not hesitate to contact him, if needed, in the future.

pondydell0206
I am so happy with Law Offices of James J Kenny's services and guidance. I used them to draft my Last Will and Testament. What I thought what I wanted my will to say wasn't even close to what I needed. He was so wonderful in explaining what planning and language was needed to manage my estate. In the event that the use of my will becomes necessary, in the far, far, far distant future, I am confident that the work done now will provide and protect my family. Thank you.
Read more reviews
Welcome to James J. Kenny's Law Office Website
James J. Kenny, also known as Jim Kenny, is a Family Law Attorney located in Southern California with two offices located in Rancho Cucamonga and San Bernardino, Ca. Mr. Kenny has been practicing law since 1977 and is a certified Family Law specialist that works alongside Kelly Price, an Associate Attorney that is involved and experienced in all aspects of Family Law. These two dedicated Attorneys focus on divorce, child custody, visitation, Child support/spousal support, property division, wage support, paternity, business valuation, premarital & marital agreements and domestic violence. With their many years of experience, unrelenting dedication to their client's cases and their resourcefulness, James Kenny and Kelly Price get Results! The Family Law Office of James J. Kenny serves the courts of Southern California including the Rancho Cucamonga Court, San Bernardino Court, Riverside Court, Pomona Court, Los Angeles Court and Victorville Court. They will also represent clients outside of these 4 courthouses, so don't hesitate to call.
James Kenny would like to personally note:
"One thing that's really important to me (James Kenny), is for you to feel like you are treated as a guest in my office. We go out of our way to be hospitable and respectful to insure that everyone and anyone feels comfortable while visiting our Family Law Office. We do not discriminate, and with that said, we accept all same sex, gay marriage and lesbian marriage family law cases."

James J. Kenny is a friendly & experienced "Certified Family Law Specialist" that specializes in and focuses his practice on Divorce Law, Child Custody, Visitation, Child & Spousal Support, Property Division, Restraining orders, Domestic Violence, Business Valuation, Premarital and Prenuptial Agreements, Paternity, Wage Assignment & More.
What makes him a "Certified Family Law Specialist?"
In order to earn the title "Certified Specialist":
| | | |
| --- | --- | --- |
| | ● | The Attorney must truly specialize in the field of Family Law |
| | | |
| --- | --- | --- |
| | ▫ | James Kenny has specialized in Family Law since 1983 |
| | | |
| --- | --- | --- |
| | ● | The Attorney must complete rigorous and extensive institutional education and training in Divorce Law. |
| | | |
| --- | --- | --- |
| | ▫ | James Kenny completed his family law education and training at La Verne Law School and completed his California bar in 1977. |
| | | |
| --- | --- | --- |
| | ● | The Attorney must receive references from peer attorneys, as well as judges. |
| | | |
| --- | --- | --- |
| | ▫ | James Kenny has received references from well known peer attorneys such as; Christopher Abernathy & Charles Morris |
Does your Family Law Case involve a
Family Owned Business or closely held business?
James Kenny is also a business evaluation specialist. When dealing with a shared business, it is important to know there are certain records you should acquire as soon as possible and certain steps you should take now to give you the greatest chance for success in getting your fair share of the business. James Kenny will walk you through the process to insure you have the best chance of getting what is rightfully yours when concerning a business that may have been shared between you and your spouse.

Come in for your initial Family Law consultation where you and James Kenny will discuss your options and provide you with a legal strategy that is both realistic and fits into your budget. James Kenny operates under the belief that "not every case needs to be a war, but when it does, we will provide you with reasonable options and aggressively litigate."